FORB Professional Golf Putting Mat
FORB Professional Golf Putting Mat

Roll Down Professional Golf Putting Mat For Indoor And Outdoor Use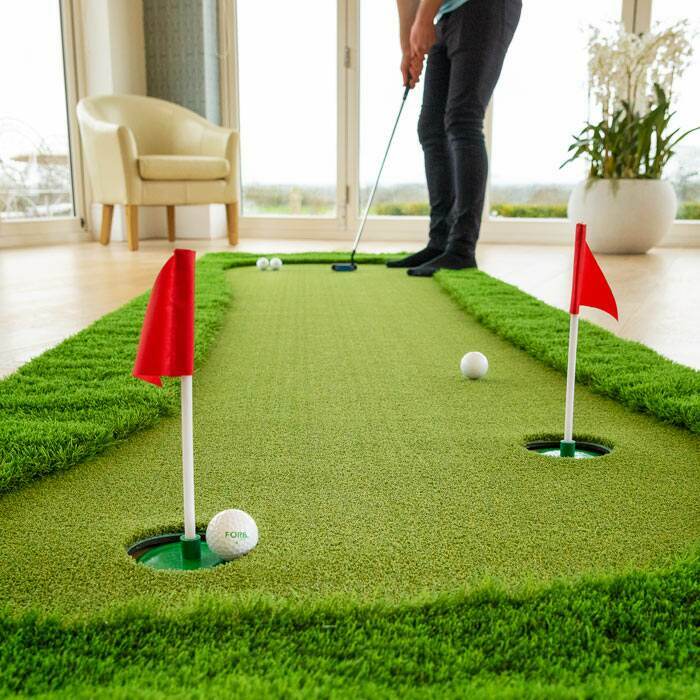 12ft x 3.2ft Putting Green
You can use this professional golf putting mat to improve your long and short putts thanks its two holes, which are positioned at the end of this 12ft long green. Each hole has its own mini flag to ensure you can always see the mats holes.
Premium Materials
The putting surface of this golf mat is manufactured from high-quality 12mm polyethylene. This artificial grass perfectly replicates the performance of a premium golf course ensuring your practice sessions resulting in improved.
Roll Down Putting Mats
To ensure this putting mat is incredibly easy to store it is constructed from 12mm polyethylene and 40mm polyethylene and polypropylene curl. These ultra-durable materials will not become damaged when the mat is rolled away for storage.
Description
Indoor Golf Putting Mat Manufactured From A Premium Blend of 12mm And 40mm Polyethylene
The ideal way to improve your putting technique from the comfort of your own home, this FORB Professional Golf Putting Mat is designed to simulate the feel of all premium golf course greens. The indoor mat features a smooth short grass section, which is manufactured from 12mm polyethylene. This high-quality material ensures your golf balls consistently glide across your home putting mat, helping you to achieve the perfect putting technique. Surrounding the mats artificial green is a rough 40mm polyethylene and polypropylene border. This rough border prevents your golf balls falling off the mat, in turn protecting your tiled floors from potential damage.
The FORB Professional Golf Putting Mat measures 12ft x 3.2ft (length x width)
Smooth putting green surface is manufactured from 12mm polyethylene
Rough border is made from 40mm grass polyethylene and polypropylene
Indoor golf putting mat can be rolled away for storage
Each putting hole is supplied with a mini plastic flag to provide a high-visibility target
Weight: 16kg (35lb)
Specifically tailored to help you practice your long-distance putts, the FORB Professional Golf Putting Mat measures an impressive 12ft in length. The large size of the mat ensures you can always provide the right amount of finesse to your golf swing, resulting in improved results throughout a competitive round of 18 holes. Two mini flags are provided to increase the visibility of the putting mats holes. These plastic flags will help to recreate the exact look and feel of a standard green, guaranteeing your practice sessions replicate a traditional golf course.
Weighing just 16kg, this mat is incredibly easy to transport, while the roll away nature of the indoor putting green ensures it will take up minimal storage space in your garage or shed.
Specifications
FORB Professional Golf Putting Mat Specifications
Dimensions
Length x width: 12ft x 3.2ft
Material
Putting surface: 12mm polyethylene
Rough section: 40mm polypropylene and polyethylene curl
Miscellaneous
Each hole has its own mini flag for increased visibility
Suitable for all flat surfaces
Weight: 16kg (35lb)
Rolls away for storage
Store indoors
Please note: Golf balls pictured are not included
Don't just take our word for it
The quality and weight of this mat is very good and I'm conifdent it will last me a while despite only having it a month so far.
This putting mat is fantastic. The pace of the mat is realistic and it rolls very true. Two holes mean you can mix up your target too. Nothing but positive things to say based on my experince
Want to chat?
Contact us here and we'll get back to you as soon as possible.
Buy today, play tomorrow
Express delivery available
Questions & answers
Ask fellow customers what they think!
Hide Q&As
Questions & Answers
1 question | 1 answer
Just interested on what's the overall measurements of this mat. Length and width
Hi Larry, Thank you for your question. The length of the putting mat is 12ft (3.6m) and the width is 3.2ft (1m) and the matting itself weighs 35lbs (16KG). If you have any further questions please email sales@
networldsports.com
Many thanks, Tom
You may also like
FORB Launch Pad Golf Practice Mat – Dual Side [2ft x 1ft]
€29.99
FORB F-5 Golf Balls - Tour Quality Golf Balls
€7.99
FORB Academy Golf Practice Mat [5ft x 3.2ft]
€59.99
FORB Practice Golf Chipping Net
€11.99
Recently Viewed
16 x 7 FORZA Match Football Goal Post
€239.99