16 x 7 FORZA Steel42 Football Goal
16 x 7 FORZA Steel42 Football Goal

16 x 7 Steel42 Football Goal - Premium Steel Goal For Juniors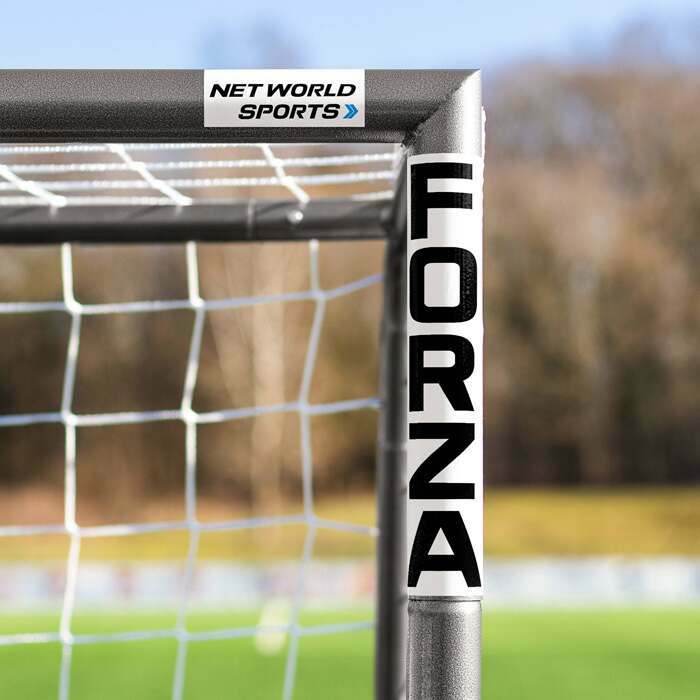 Formidably Strong Frame
Manufactured from thick 42mm galvanised steel, this premium garden goal is ideal for those wanting a goal for the garden or to train with
16ft x 7ft FORZA Steel42
The 16 x 7 goal frame is ideal for children up to the age of 12. This 9-a-side football goal will allow juniors to light up the garden training pitch
Weatherproof Garden Goal
The galvanised steel frame is rust and corrosion proof and can be stored outdoors while the UV treated goal net is perfect for use all year round
Description
FORZA Steel42 Football Goal - Steal The Show At Junior 9-A-Side Matches
This FORZA Steel42 football goal is the perfect addition for any football club looking to enhance the reputation of their junior match days. This goal will have organised 9-a-side matches feeling like Wembley cup finals each and every time your players step out on to the pitch!
The weatherproof steel goals allow for year round enjoyment without fear of damage or corrosion taking place due to any inclement weather. Ensure that your high standards of play are adhered to with a goal that will stand firm in the wind, rain and even the snow!
The steel frame is remarkably lightweight allowing for easy access between the back garden and the training ground. This allows for the next generations of Robbie Keane's and Gareth Bale's to practice their skills on the go at any location.
Specifications
Dimensions
• Goal Size (length x height) 16ft x 7ft (4.88m x 2.13m)
• Top depth - 3ft (0.91m)
• Bottom depth - 6.5ft (1.98m)
Material
• Manufactured from quality 42mm round galvanised steel
• White heavy duty 3mm thick net with 100mm mesh
Miscellaneous
• Weight: 40kg / 88lb
• Goals are freestanding so retain portability, but require 2 people to move them
• Pipe wall is approximately 2mm thick
• Set Comprises of: steel frame, heavy duty football net, bungee cord net attachments and anchor u-pegs
Don't just take our word for it
Very good quality product for a very reasonable price. I am a US customer and had concerns about purchasing from a UK vendor, but had no problems whatever, it shipped a couple of days after my order and was on my front porch within 2 days. Easily assembled and the kids and I have been having a blast playing in the yard ever since.
Great quality and very durable for young and older players.
excellent my teenage child delighted with goal posts
Good strong quality. Easy to assemble
First class product delivery and service would recommend
Want to chat?
Contact us here and we'll get back to you as soon as possible.
Buy today, play tomorrow
Express delivery available
Questions & answers
Ask fellow customers what they think!
Hide Q&As
Questions & Answers
7 questions | 7 answers
Hi , do theses goals assemble and come apart again quite quickly ? I am a coach that travels to different venues in a day and am looking for something like this . Thanks
Is the posts strong enough for older teenager . How strong is the crossbar for shots
Hi Glenn, thanks for getting in touch. Yes the goals are definitely strong enough to withstand the pressure of the hardest of shots. The goals are made from 42mm reinforced steel with a 2mm thick pipe tubing. The nets are also made from a 3mm thick heavy duty twine which is suitable for all weather conditions. I hope this helps. Many thanks, Adam

Will the FORZA Pro Football Goal Target Sheets fit this steel goal? I'm wondering if the tube diameter is wide enough for the straps to fit correctly. Ive only seen it fitted to white goals with larger uprights.
Hi Jamie, thanks for getting in touch. Yes that's correct, our Pro Target Sheets are designed to suit our FORZA Steel42, FORZA Allu60 goals and our FORZA Alu110 goal range. You can simply adjust the target sheet using the Velcro straps provided to suit the different post diameters. I hope this helps, if you have any questions regarding any of this then please do let me know. Many thanks, Adam
I'm looking for durable soccer goals to purchase for an elementary school playground. They will get a lot of use. Do you think this product would hold up? If not is there one you would recommend?
Hello Jessica, thank you very much for the enquiry. Yes, these goals would be perfect for this use! They are made from a durable 42mm thick steel and they have a net which is UV Stabilized so, this will hold up regardless of the conditions! If you have any further questions in regards to these goals, please do not hesitate to email us on sales@
networldsports.com
and we'll be more than happy to assist you further.
Many thanks,
Grant
What is the warranty information and do you offer replacement netting?
Hi Shawn, Thank you for your question. With all of our goal posts there is a one year warranty attached, so if in the very unlikely occasion anything was to happen parts can be replaced at no extra cost. Many thanks, Tom
How long would it take to send to ireland
Hello Angela, Thank you for your question. We have two options for delivery to Ireland, our standard service is 3-5 working days. We also have an express service which means delivery can be made in 2-3 working days. Please do let me know if you have any further questions. Many thanks, Tom
Does this product come with a net?
Hi Freddie, this goal does come complete with the goal frame, the net and the net clips. Please let me know if you have any further questions at all. Thanks, Dan.
You may also like
16 x 7 FORZA Match Football Goal Post
€239.99
16 x 7 FORZA Alu60 Football Goal
€534.99
Freestanding STOP THAT BALL™ - Ball Stop Net & Posts [10ft High]
€99.99
18.5 x 6.5 FORZA Alu60 Football Goal
€699.99
18.5 x 6.5 FORZA Alu110 Freestanding Football Goal
€1,809.99