18.5 x 6.5 FORZA Alu60 Football Goal
18.5 x 6.5 FORZA Alu60 Football Goal
Matchday Football Goal For Juniors And Training Goal For Seniors
Cutting-Edge Manufacturing
This freestanding goal has been made with the very best materials, including stainless steel nuts and bolts, weatherproof aluminium goalposts and precision welded corner joints which are incredibly strong.
Best Goals For Storage
Build with a hand-operated detachable back bar, which is fundamental for stable performance, and galvanised folding side frames, the foldaway goals are perfect for facilities who require convenient storage.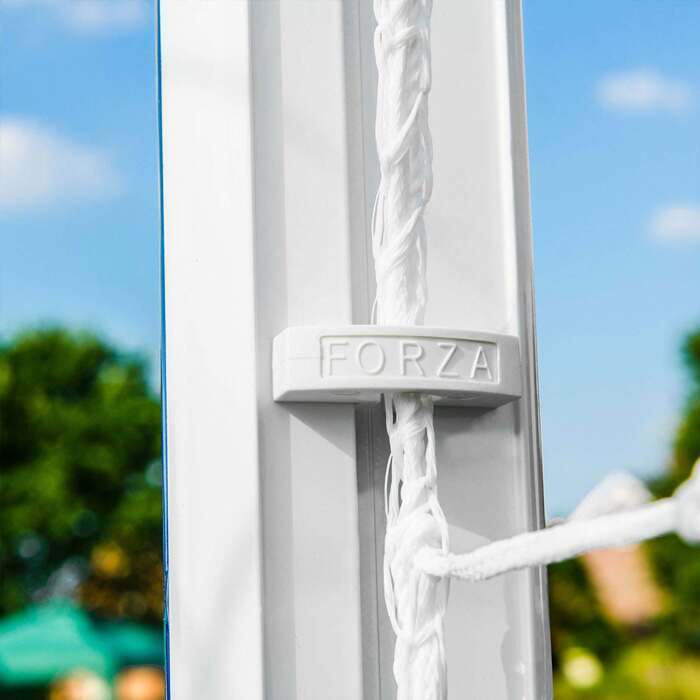 Strong 3mm Twine Netting
The UV treated goal net has been made using 3mm braided twine which has a knotted mesh size of 100mm and has been designed to provide a tailored fit to the internal channel. Locking nylon net clips included.
Description
18.5 x 6.5 FORZA Alu60 Football Goal – Professional Quality For Your Training Sessions
Hailing from the illustrious FORZA Alu60 Football Goal range, these 18.5 x 6.5 football goal posts are an excellent addition to your football training set-up – for both junior & senior football. A popular choice amongst football clubs, schools & facilities, the FORZA Alu60 Football Goals guarantee an elite performance with exceptional quality every time they're used. Expertly manufactured using the highest-grade materials available, these football goals will be play a major role in your football training for many seasons to come.
18.5 x 6.5 FORZA Alu60 Football Goal – Perfect For Junior & Senior Football Training
Premium-grade football goal posts manufactured using reinforced aluminium (60mm OD)
Corner joints of the goal frame have been welded for increased strength & durability
Goal frame features foldaway steel back & side panels for simple storage & portability
Football goal net has been crafted using 3mm braided HDPE (100mm knotted mesh)
Net is UV treated & goal frame is powder-coated for weather resistance
Guaranteeing world-class durability, this premium-quality football goal has been expertly engineered to ensure its exceptional standards are always maintained. The goal posts, which feature an optic white polyester powder-coating, have been manufactured using 2.5mm thick reinforced aluminium & feature welded corner joints for increased strength. Resistant to scratching, rust & corrosion, the impressive 18.5 x 6.5 FORZA Alu60 Football Goal can left outside all year round.
Just like the goal posts, the ultra-durable football goal net has been innovatively crafted to allow it to deliver in all conditions. The netting, which has been created from 3mm braided HDPE, has been UV treated for protection against sun damage & rotting. As well as specialist treatment, the high-class football goal net features a 100mm knotted mesh to give it outstanding resistance to heavy impacts from footballs. The football net can be simply assembled using the included twist & lock style net clips.
The perfect fit for junior & senior football training sessions, the 18.5 x 6.5 FORZA Alu60 Football Goal is completely freestanding & self-weighted, making it an excellent choice for pitches where permanent posts aren't suitable. The versatile goal can be used on grass, 3G, 4G, AstroTurf & wooden football pitches (indoors & outdoors) & can be simply stored & transported thanks to the steel foldaway side & back panels. The innovative quick-release pins allow users to fold the goal in seconds.
PLEASE NOTE: The 18.5 x 6.5 FORZA Alu60 Football Goal has been designed to FIFA & UEFA Specifications. Independently tested, these football goal posts conform to BS EN 8462 Safety Standards. Net World Sports are officially recognised by the FA as an official supplier of football goals.
Specifications
18.5 x 6.5 FORZA Alu60 Football Goal Specifications
Dimensions
Goal Size: 18.5ft x 6.5ft (5.6m x 2m)
Top Runback: 0.9m (35in, approximately 2ft 11in)
Bottom Depth: 1.83m (72in, approximately 6ft)
Goal Weight: 22kg (48lbs)
Materials
Goal Frame: 60mm OD reinforced aluminium (2.5mm thick) – durable & lightweight
Rust-proof frame features an optic white polyester powder-coating
Premium powder-coating gives goals scratch-resistance
Foldaway Side Panels & Back Frame: 30mm OD galvanised steel
Detachable back bars feature quick release pins (operate by hand – no tools required)
Goal frame features fully-welded corner joints for increased strength & longevity
Goal Net: Premium 3mm braided HDPE (100mm knotted mesh)
Football Goal Net is UV treated & resistant to rotting (can be left outdoors)
Twist & lock-style safety net clips made from nylon securely attaches the nets neatly into the goalposts rear internal channel
Goal is weatherproof, low-maintenance and suitable for use on all surfaces, including grass, concrete, 3G, 4G, wooden and AstroTurf pitches
Complete with high tensile stainless-steel nuts, bolts, washers and zinc plated brackets
Miscellaneous
Ideal youth 11-a-side matches & junior/senior training sessions
Each individual goal will be delivered in three boxes – Box 1: 1910x130x130mm, Box 2: 1980x295x65mm and Box 3: 445x345x205mm
Goals will be delivered in flat pack form and will require assembly
It is advised that the following tools would be useful to help with assembly: mallet, wrenches, ratchet with sockets
1-year guarantee as standard with all FORZA football goals
Independently tested to BS EN 8462 Safety Standards [Watch The Video Here]
Goals conform to FA Match standards. Net World Sports is recognised by the FA as a suitable supplier of football goals
Anchors are sold separately, we recommend using our ground hoop anchors, sand bag weights or wall fix chain anchor kits
Don't just take our word for it
We run a small soccer club & we needed some portable goals to play smaller sided games on our pitch that would fit in our storage container and these fit the bill perfectly!
Want to chat?
Contact us here and we'll get back to you as soon as possible.
Buy today, play tomorrow
Express delivery available
Questions & answers
Ask fellow customers what they think!
Hide Q&As
Questions & Answers
No one has asked a question yet!
You may also like
21 x 7 FORZA Alu60 Football Goal
€874.99
24 x 8 FORZA Alu60 Football Goal
€959.99
Freestanding STOP THAT BALL™ - Ball Stop Net & Posts [10ft High]
€99.99
18.5 x 6.5 FORZA Alu110 Socketed Football Goal
€999.99
18.5 x 6.5 FORZA Alu110 Freestanding Football Goal
€1,999.99