FORZA ASTRO Football Mannequins [Includes Bases]
FORZA ASTRO Football Mannequins [Includes Bases]
Perfect Your Set Pieces With These Premium Football Mannequins
Reinforced Rubber Base
The weighted rubber base ensures that the mannequins can be used on all surfaces including artificial and indoor - perfect for clubs that alter their training venues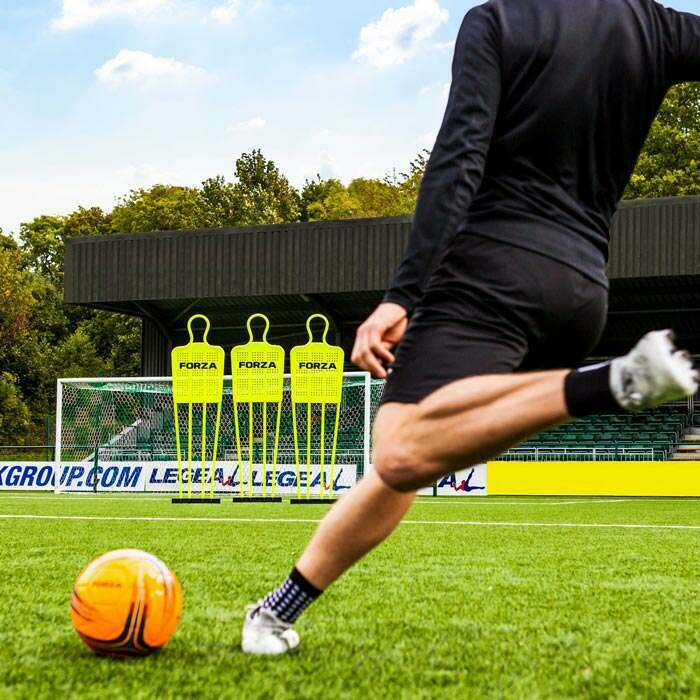 Set-Piece Plays
Improve your set-pieces with the FORZA free-kick mannequins - ideal for replicating real life match-size free-kick walls or acting as opposition player replicas
Moulded Chest Plate
The FORZA mannequins come with a PVC body and a moulded chest plate in a high visibility fluorescent yellow, capable of withstanding the force of your free-kicks
Description
The Best Free Kick Mannequins For Players Of Any Age And Ability
These football free kick mannequins are the best training aid to get your set pieces up to scratch. Manufactured from highly-durable PVC, these FORZA football mannequins with bases can withstand repeated impact from wayward strikes as well as the worst of weather conditions. Supplied with a 13kg black rubber base, these set-piece mannequins are ideal for any training or practice session on astro. Available in multiple mannequin sizes, these FORZA football mannequins are sure to meet your every need.
Manufactured from weather resistant PVC for extra outdoor durability
Mannequins features a moulded chest place for a realistic player model
Mannequins includes weighted rubber base for additional stability
Available in fluorescent yellow for evening and winter practice
Available in sizes; mini (4ft), junior (5.4ft) & senior (6ft).
Single junior mannequin and rubber base only
Manufactured from fluorescent yellow PVC, these freekick mannequins for astro turf are designed to be used in the worst of conditions. Whether it is rain, sleet or snow, these durable defender mannequins deliver high-level performance all year-round, season after season. The fluorescent colour allows these dummies to be used in the evening and in the winter to ensure set piece and ground drills are always possible. With a 60cm moulded chest plate these football wall mannequins provide a realistic player model for set piece practice.
Supplied with heavy-duty rubber bases, these free kick dummies are ultra-stable and remain in place even after contact from an awry strike. These rubber bases allow the football free kick wall to be used on artificial surfaces and will not damage or mark astro. Available in junior mannequin size.
Specifications
Dimensions
Chest Plate: 60cm (24in)
Mini (Inserted into ground): 4ft (3.7ft) | 1.2m (1.12)
Junior (inserted into ground): 5.4ft (5.2ft) | 1.6m (1.58m)
Senior (inserted into ground): 6ft (5.8ft) | 1.8m (1.76m)
All options available as a pack of 1 or pack of 3
Materials
Mannequins body manufactured from a durable PVC
FORZA Mannequin includes a moulded chest plate
The rubber base is made from a heavy-duty reinforced black rubber
Miscellaneous
Rubber base weighs 13kg (29lbs)
Mannequin Colour: Fluorescent Yellow
Rubber Base Colour: Black
Don't just take our word for it
They are well made and very sturdy. Excellent product and service.
Want to chat?
Contact us here and we'll get back to you as soon as possible.
Buy today, play tomorrow
Express delivery available
Questions & answers
Ask fellow customers what they think!
Hide Q&As
Questions & Answers
5 questions | 5 answers
Hi , is the pack of one , one mannequin?
Hi Rosemarie, yes the 'Pack of One' is for a single mannequin. If you have any further questions let us know!
Hi Martin, thank you very much for taking the time to ask a questions. We sell these mannequins individually & in packs of 3.
Many thanks,
Grant
Does it come with 3 as a set or is it only one
Hello, thank you very much for the enquiry. On this listing, there should be two drop down boxes below the price, here you are able to select your pack size, as well as the size of the mannequin(s) you would like.
Kind regards,
Grant
How many come in the pack of 1? Is it just one or three come in the pack?
Hi Jared, thank you very much for the enquiry. On the listing you are on there should be two drop down menus, one to allow you to choose your pack size and the other to pick the size of the mannequins. Please do not hesitate to email us on sales@
networldsports.com
if you require any further assistance.
Many thanks,
Grant
Can you please tell me the shipping cost? My zip code NC27526. Thanks
Hi Francisco, Thank you for getting in touch, If you place your items you were looking to purchase into your basket and if you proceed to checkout this will allow you to choose the delivery destination, this will then provide an accurate delivery cost. I hope this helps, if you have any questions please do get in touch. Many thanks, Ryan.
You may also like
FORZA Pro Football Training Bibs/Vests [5 - 15 Packs]
€8.99
Football Ball Pump And Needle - FORZA Pump That Ball™
€8.99
FORZA Centro Goalkeeper Gloves
€24.99