FORZA GK Ball Deflection Ramp [30"]
FORZA GK Ball Deflection Ramp [30"]
DUAL ANGLED RAMP FOR GK TRAINING DRILLS
UNPREDICTABLE BALL MOVEMENT
The ramp creates unpredictable ball movement and changes to ball direction for passes/low shots directed at the ball deflection ramp.
USE WITH FORZA DEFLECTORS
The FORZA GK Ramp is compatible with all FORZA GK Ball Deflectors, so you can add the ramp to your GK deflector set up or use on its own.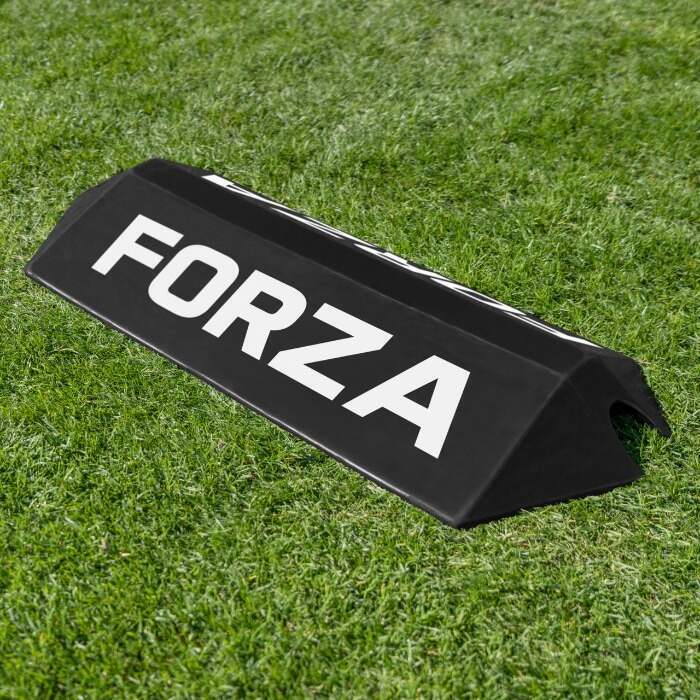 DUAL-SIDED RAMP
The 2-sided ball deflection ramp boasts 2 angles: 20° and 35° to add variety and diversity in goalkeeper training sessions.
Description
DEFLECTION RAMP FOR GOALKEEPER TRAINING DRILLS
A perfect addition to all football coaching equipment, the reflex training ramp is great for testing the reflexes and reaction time of 'keepers. The deflector ramp boasts two angles, 20° and 35°, allowing coaches and players to add variety to their training drills. The goalie training ramp allows passes/shots to change direction to try and catch goalkeeper off guard. Perfect as an addition to the FORZA GK Ball Deflector range or to use on its own.
FORZA GK Ball Deflection Ramp – Suitable to use with any FORZA Ball Deflector or on its own
Ramp boasts two angles to vary training drills: 20° and 35°
Made from durable rubber for long-lasting use
Allows balls to change direction to try and catch goalkeepers off guard
Ramp measures 792 x 309 x 70mm (31 x 12 x 2.8in)
Specifications
FORZA GK Ball Deflection Ramp Specifications
DIMENSIONS:
Size: 792 x 309 x 70mm (31 x 12 x 2.8in)
Ramp Angles: 20° and 35°
MATERIALS:
Manufactured from durable rubber
MISCELLANEOUS:
Ramp has 2 sides with different angles for variety in training drills
Ideal for placing on FORZA GK Ball Deflectors or using on its own
Don't just take our word for it
The ramp has 2 angles, which is great for varying drills. It's simple and does what it says on the tin.
Want to chat?
We're here on

live chat

right now!
Or via phone or email if you'd prefer...
Buy today, play tomorrow
Express delivery available
Questions & answers
Ask fellow customers what they think!
Hide Q&As
Questions & Answers
No one has asked a question yet!