FORZA Stadium Goal Conversion Kit [Pair]
FORZA Stadium Goal Conversion Kit [Pair]
CONVERT YOUR FOOTBALL GOALS TO PREMIER LEAGUE QUALITY
GOAL STANCHIONS
UEFA standard net stanchions support adult size 24x8ft stadium box net goals. Long-lasting and weatherproof thanks to 80mm OD galvanised steel.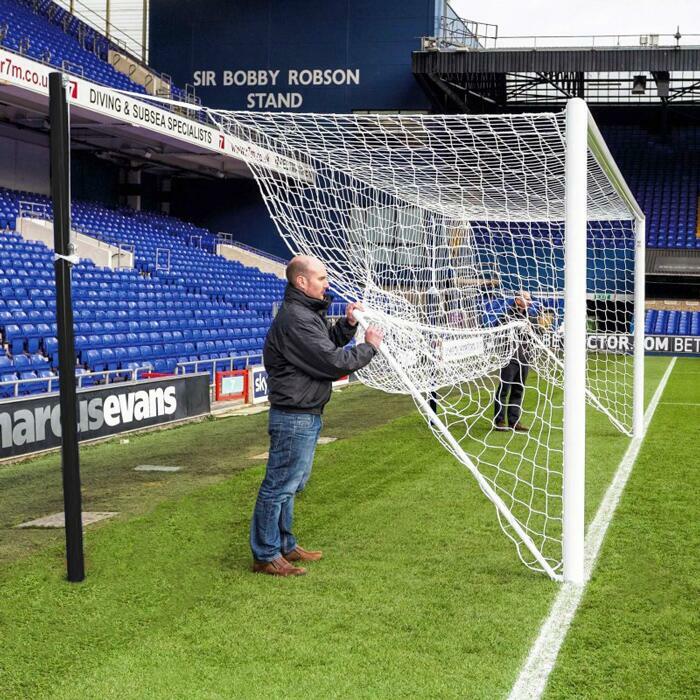 HINGED BASE FRAME
Base frame is hinged, allowing it to be lifted when not in use. Designed for adult size 24x8ft stadium goals and weighs down box shaped nets to the ground.
STADIUM BOX GOAL NETS
Box goal nets adhere to highest standard of FIFA regulations. Manufactured from dense HDPE for increased durability and resilience in all conditions.
Description
Stadium Conversion Kit For Pair Of Full Size Aluminium Football Goals
Package consisting of UEFA standard stanchions, 5mm box goal nets and optional hinged bottom bars, enables full size football goals to be converted into Premier League style stadium box goals.
80mm aluminium stanchions comprising of high quality posts, sockets, ratchets, straps and fittings.
White 5mm braided twine 24ft x 8ft stadium box goal nets with 6ft (1.8m) top and bottom depth (densest twine on the market and its braided structure makes it even stronger due to the twine interlinking instead of being twisted like the majority football goal nets).
Optional (please select from drop down menu): 34mm steel, white powder coated bottom bar for bottom of box goal net. Enables bottom of net to weight down on ground without requirement for pegs. Hinge design allows bar to elevate bottom of net above pitch sufrace during ground maintenance.
Box nets of all colours available on request.
Suitable for 2 full size aluminium football goals.
Quantity = 4 stanchions, 2 box nets and optional 2 hinged bottom frames.
Professional standard free hanging net support and box net package, with option to include hinged bottom bars. Converts full size aluminium goals into a world class stadium goal set-up.


The stanchions in this package have been used at White Hart Lane, Emirates and Park Head. The box nets have been used at White Hart Lane, Goodison Park and Etihad. Hinged bottom frames are also used at many world renown football stadiums.



Specifications
STADIUM GOAL CONVERSION KIT [PAIR] SPECIFICATIONS
DIMENSIONS:
Hinged Bottom Bar Frame: 24ft (7.32m) W x 6ft (1.83m) D
All parts of this conversion set are designed to support adult size 24x8ft stadium football goals
MATERIALS:
Hinged Bottom Bar Frame: Manufactured from heavyweight 34mm OD galvanised steel
Hinged Bottom Bar Frame: Supplied with hook and loop fastening system ties to secure hinged base frame to goal upright when lifted
Stanchions: Manufactured from heavyweight 80mm OD reinforced aluminium.
Stanchions: 45cm deep aluminium ground sleeve sockets with rubber lid
Stanchions: Complete with eye bolt bracket, rubber post top cap and stainless steel nuts/bolts/washers
Stanchions: Supplied with black ratchets & straps with carbine clip
Stadium box nets manufactured from 5mm thick braided HDPE
MISCELLANEOUS:
Hinged Bottom Bar Frame Colour: Powder coated white
Stanchions Colour: Powder coated black
Goal Net Colour: White (for other colours, please contact our sales team)
Net World Sports supplies to various Premier League, EFL, MLS, CPL and A-League clubs across the world
Don't just take our word for it
Exactly what I was looking for
Want to chat?
Contact us here and we'll get back to you as soon as possible.
Buy today, play tomorrow
Express delivery available
Questions & answers
Ask fellow customers what they think!
Hide Q&As
Questions & Answers
No one has asked a question yet!