Roll Down Cricket Matting - 2m Wide (Indoor/Outdoor)
Roll Down Cricket Matting - 2m Wide (Indoor/Outdoor)
13mm Thick Heavy Duty Club Spec Cricket Matting With Non Slip Matting
Realistic Ball Performance
This 13mm thick portable cricket matting features a high-quality shock pad that will mimic the bounce of a traditional cricket green, even indoors.
Weatherproof Cricket Matting
As this cricket wicket matting is manufactured from UV stabilised polypropylene allowing use this mat outdoors during intense sunlight.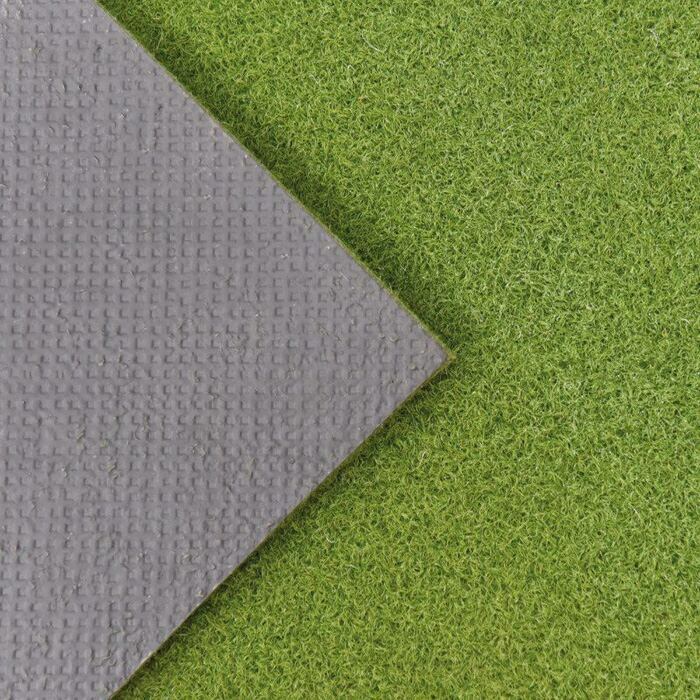 Easy To Store
Rolling this practice cricket matting up for storage will not cause any damage making it ideal for cricketers that do not have the luxury or a permeant field.
Description
Practice Roll Down Cricket Matting - 2m Wide Roll Down Cricket Mat with PVC Backing
Premium quality roll down cricket matting with non-slip PVC backing for indoor/outdoor cricket practice. Ideal for practice areas where a permanent mat cannot be installed. The roll down matting offers top grip, wear and bounce characteristics at a reasonably economic cost with a life expectancy of up to 20 years.
2m wide and the lengths available are:
1m, 2m, 3m, 4m, 5m, 6m, 7m, 8m, 9m, 10m, 11m, 12m, 13m, 14m, 15m, 16m, 17m, 18m, 19m, 20m, 21m, 22m, 23m, 24m, 25m, 26m, 27m, 28m, 29m, 30m.
Premium quality 13mm thick club standard cricket matting.
Weighs approximately 4.5kg (10 lbs) per square metre.
The yarn is manufactured from heavy duty UV stabilised polypropylene in green.
Yarn is needle punched into the non-slip PVC backing for enhanced strength and durability.
Matting simply rolls down into place onto a flat hard surface (no fixings required).
Weatherproof matting can be used outdoors if required.
Samples available on request.
Please note that this type of matting is very heavy. We would recommend purchasing one of our cricket mat trolleys for transportation.
If you require a sample or technical advice, please contact our sales team on +44 (0)1691 683807 for friendly expert advice.
Specifications
Dimensions
Width: 2m (6.5ft)
Length: Available in sizes between 1m (3ft) and 30m (98.5ft)
Thickness: 13mm (1/2 inch)
Material
UV treated polypropylene
7mm non-slip PVC backing
Green 6mm thick matting
Miscellaneous
Cricket matting rolls away for storage
Needle punched yarn for added durability
Weights 4.5kgs (10lbs) per square metre (11 square foot)
For use on indoor and outdoor flat surfaces
PLEASE NOTE: This is a bespoke product and therefore non-returnable
Want to chat?
Contact us here and we'll get back to you as soon as possible.
Buy today, play tomorrow
Express delivery available
Questions & answers
Ask fellow customers what they think!
Hide Q&As
Questions & Answers
1 question | 1 answer
What kind of surface prep is required for the underlying surface if the mat is to be placed in an open soccer field?
Hello Rashiek, Thank you for your question. The matting can be placed on any flat, hard surface. This allows for a more realistic bounce bounce of the ball. Many thanks, Tom
You may also like
Roll Down (Lightweight) Cricket Matting - 2m Wide (Indoor/Outdoor)
€69.99
Run-Up/Surround Cricket Matting - 4m Wide (Outdoor/Indoor)
€99.99
Recently Viewed
AquaTec Inflatable Paddle Board
€189.99
METIS Exercise & Yoga Mat – 6mm Non-Slip
€7.99
VICI Replacement Rear Mudguard [Commuter Model]
€12.99
FORZA Hurdle/Agility Poles & Clips
€11.99
FORZA Training Hurdle Carry Bag
€6.99