Custom Size Indoor Cricket Nets
Custom Size Indoor Cricket Nets
High Quality Indoor Cricket Nets Custom Made To Any Specification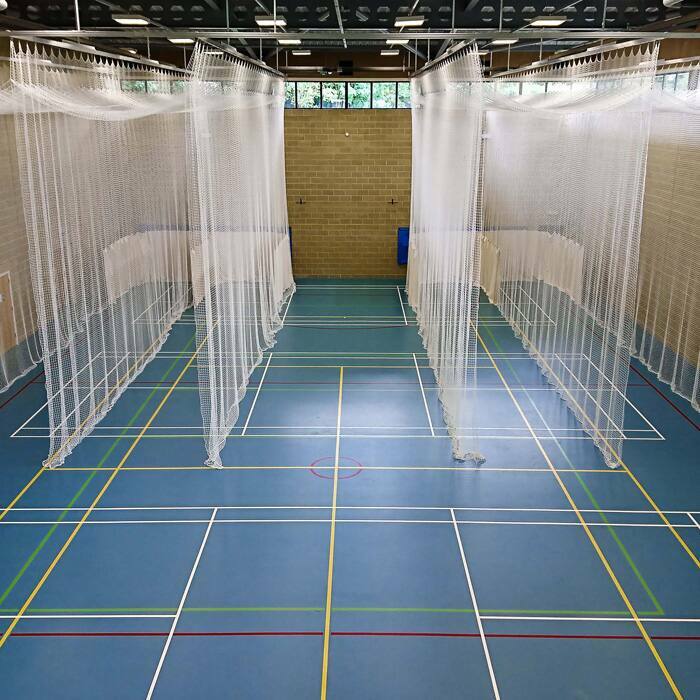 FLAME RETARDANT MATERIALS
Your custom made indoor cricket nets are made from flame retardent materials to reduce the risk of damage being caused in the unlikely event of a fire.
Tailor Made To Your Specs
From small school halls to large leisure centres, these cricket nets are made to your exact specifications, maximising the size of your potential playing area.
Built In Sight Screens
The heavy-duty canvas screens placed either side of each bay of your indoor cricket nets helps keep your batter's eye on the ball by removing all distractions.
Description
Indoor Cricket Nets supplied by Net World Sports
Custom indoor netting for any sports facility, just tell us exactly what you need.
Indoor batting nets custom made to any specification.
Flame retardant indoor cricket nets with canvas screens.
Manufacture time of nets is approx 10 days.
For quotations on indoor cricket nets please contact +44 (0)1691 683807 or [email protected]
Specifications
Size
Indoor batting nets custom made to any specification that you require
Materials
Flame retardant cricket nets
Canvas sight screens
Manufacture Time
Don't just take our word for it
We've recently upgraded our school sports hall and sourced our new cricket nets from Networld Sports. We needed custom sizes and after speaking with a polite gentleman in their sales team we confirmed all of our requirements and placed the order. The nets arrived just over a week after placing the order and they have been fantastic. They are great quality and have been a surperb addition for our school. Would highly recommend the nets and Networld Sports to anyone looking to buy custom cricket nets.
Want to chat?
Contact us here and we'll get back to you as soon as possible.
Buy today, play tomorrow
Express delivery available
Questions & answers
Ask fellow customers what they think!
Hide Q&As
Questions & Answers
No one has asked a question yet!
You may also like
FORTRESS Ultimate Cricket Net
€309.99
FORTRESS Garden Cricket Net [4 Sizes]
€299.99
Drop-In Cricket Net [Heavy Duty]
€99.99
Heavy Duty Cricket Netting [Made To Any Size]
€0.99