Vermont ProCourt Mini Badminton Net & Racket Set
Vermont ProCourt Mini Badminton Net & Racket Set

High-Quality Vermont Mini Badminton Net & Racket Set
Be A Pro/Court Glory.
All you need on a journey to become a Grand Slam Champion - net, posts, rackets & shuttlecocks.
Get Up & Pro!
The ultimate portable Badminton set for players & families on the go. Just bag it up!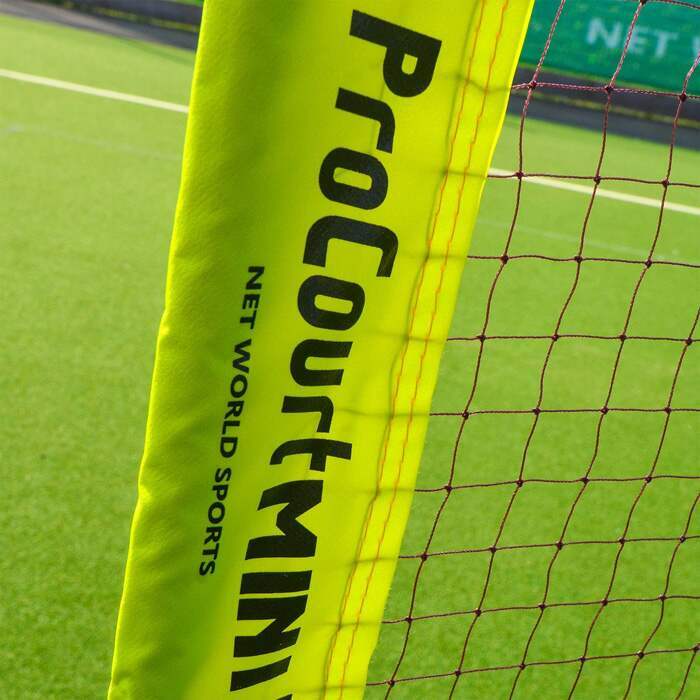 Super Light, Super Strong
Net frame & high-vis material break the rules. Tough as nails, yet remarkably lightweight.
Description
Vermont ProCourt Mini Badminton Set – A Net, Rackets, Shuttlecocks & More
The number one choice of badminton sets for badminton clubs, schools & the back garden, the portable ProCourt Mini Badminton Net & Racket Sets have everything required to create the ultimate badminton set-up. Available with a variety of different net lengths & sizes to ensure players of all ages & abilities can enjoy, these high-quality badminton sets feature a ProCourt net, badminton rackets, shuttlecocks & a premium Vermont Racket Bag. Not only are these sets 100% portable to allow you to take the action wherever you like, the ProCourt Mini Badminton Nets feature a rapid assembly process to allow you even more time to test your badminton skills.
Vermont ProCourt Mini Badminton Net & Racket Set – For Clubs, Schools & Families
ProCourt Mini Badminton Net is available in three lengths: 10ft, 20ft & 30ft
Sets feature high-quality Vermont Tyro Badminton Rackets (21in, 23in & 27in)
ProCourt Set includes high-performance Vermont Club 100 Badminton Shuttlecocks
Each set comes with a 4-capacity Vermont Racket Bag included (drawstring design)
Badminton Sets are 100% portable & can be used on any flat surface
Badminton Net can also be simply converted into a mini tennis net
With every component expertly manufactured using premium-grade materials, the ProCourt Badminton Sets guarantee supreme durability. The posts, which consist of multiple easy-to-assemble poles, have been created from rust-resistant powder coated steel. The net is crafted using 6ply polyethylene & features Oxford Material banding for supreme resistance towards consistent badminton. The set also includes Vermont's high-performance badminton shuttlecocks & Vermont Tyro Badminton Rackets which offer exceptional shot assistance to players of all ages & abilities. Completing the set is the impressive Vermont Racket Bag, which includes a drawstring design to keep your rackets & shuttlecocks secure during transit.
PLEASE NOTE: The Vermont ProCourt Mini Badminton Net & Racket Set is available in three different net lengths. For singles (2x rackets) select the 10ft option & for double (4x rackets) please select the 20ft or 30ft ProCourt Badminton Net above.
Specifications
Vermont ProCourt Mini Badminton Net & Racket Set Specifications:
What You Get:
10ft (3m) Net: 2x Vermont Tyro Badminton Rackets | 1x Tube Of Vermont Club 100 Shuttlecocks | 1x Vermont 4 Racket Bag
20ft (6m) Net: 4x Vermont Tyro Badminton Rackets | 2x Tubes Of Vermont Club 100 Shuttlecocks | 1x Vermont 4 Racket Bag
30ft (9m) Net: 4x Vermont Tyro Badminton Rackets | 2x Tubes Of Vermont Club 100 Shuttlecocks | 1x Vermont 4 Racket Bag
Badminton Racket Sizes:
Kids: 21in Vermont Tyro Badminton Racket
Junior: 23in Vermont Tyro Badminton Racket
Senior: 27in Vermont Tyro Badminton Racket
Materials:
ProCourt (Posts): 1mm steel tubing – powder coated
ProCourt (Badminton Net): 6ply polyethylene with a 1in mesh
ProCourt (Net Banding): 210D Oxford Material
ProCourt (Carry Bag): Ultra durable nylon with metal zips
Badminton Rackets: steel shaft with an aluminium racket head
Shuttlecocks: Cork tip with a synthetic nylon skirt
Racket Bag: increased strength 210D polyester fabric with drawstring design
Miscellaneous:
ProCourt Mini Badminton Net is completely freestanding & suitable for any surface
Entire set is 100% portable & can be used indoors & outdoors
ProCourt can be converted to mini tennis net via simple removal of 2 ProCourt poles
Don't just take our word for it
Very high quality sports equipment. Highly recommended.
Good quality item and excellent value for money
Product arrived in good condition. I haven't used it yet so can't talk about its quality.
Want to chat?
Contact us here and we'll get back to you as soon as possible.
Buy today, play tomorrow
Express delivery available
Questions & answers
Ask fellow customers what they think!
Hide Q&As
Questions & Answers
4 questions | 4 answers
how high is the net (why is it called "mini")?
Hi, thank you very much for the enquiry. This net can be set at two heights, 5ft for mini badminton & 2.6ft for mini tennis.
Many thanks,
Grant
We will be using it in a mowed but uneven area. Will this work out in that situation?
Hi Dorothy, Thank you for the question. The grass surface will most certainly help when it is mowed however if it is on an uneven surface the freestanding posts may not be sturdy enough. Depending on the topography the freestanding posts may work but just may not be as sturdy as a flat surface. Many thanks, Ryan
Hi I'm after the Vermont pro court badminton set but can you tell me the height of the net ? As we like to play badminton with a high net ?
Hi Chris, thanks for your message. The height of the Badminton net is 5ft. You also have the choice to adjust the width, we have 10ft, 20ft and 30ft options available. This net also doubles up as a Mini Tennis net, this is 2.6ft in height. It is the perfect portable product for leisure and for training! I hope this helps. Many thanks, Adam
Why is it called 'Mini?' Why do you offer s 30 foot net when regulation is 20 feet?
Hello Pete, Thank you for your question. The reason it has the mini title is that the height and length are not regulation height for tennis. Regulation for competitive play for length is 33ft or 42ft. The height only comes to 2.6ft while regulation is 3.5ft. If you have any further questions please do let me know. Many thanks, Tom
You may also like
Vermont ProCourt Mini Badminton Net
€49.99
Vermont ProCourt Mini Tennis & Badminton Net & Racket Set
€149.99
Vermont Badminton Posts & Net [Freestanding]
€229.99
Vermont Badminton / Volleyball Combi Posts [Socketed]
€189.99
Vermont Badminton / Volleyball Combi Posts [Freestanding]
€289.99
Recently Viewed
FORTRESS 360° Mobile Cricket Cage [Test Grade]
€1,999.99
Golf Putting Green Matting – 2m Wide
€69.99
FORZA Premier Ball Carry Bag
€14.99
Tennis Net Centre Strap [Premium Grade]
€11.99
FORZA 90cm x 60cm Double-Sided Sport Coaching Board [13 Sports Available]
€59.99